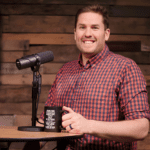 Have you ever wondered about the modern trend of deconstruction within Christianity, especially amongst the younger generation? Join me as I engage in a thought-provoking conversation with Braxton Hunter, president of Trinity College of the Bible and Theological Seminary. We explore this deeply fascinating phenomenon in depth, digging into its roots and implications for the faith journey. We discuss its evolution from a healthy process of critical thinking to a path away from conservative, bible-based Christianity for some, and the critical importance of teaching our children to think for themselves.
We're also not shying away from the challenging discourse around LGBT issues in Christian doctrine, addressing the harmful dichotomy often perpetuated by churches and the changing attitudes towards sin. We dismantle the misconceptions connected with 1 Corinthians 6, 9-11, bringing a fresh perspective to the expectations and burdens put on Christians, and how it impacts our understanding of selfhood in Christ. We speak candidly about the guilt, shame, and harm that can arise from these misunderstandings, highlighting the urgent need for Christians to stand with those grappling with sin.
Finally, we dive into the powerful effects of social issues on deconstruction and deconversion, and how the dialogue on biblical sexuality can push people to question their beliefs. Braxton shares his insight on the shifting attitudes towards the LGBT community within Christian doctrine and how the gospel offers everyone, regardless of their struggles with sexuality, a promise of hope and acceptance. This episode is a must-listen for those seeking a deeper understanding of these pressing issues in contemporary Christianity. Don't miss it!
Timestamps:
(0:00:16) – God's Standard for Sexuality and Deconstructing Faith
(0:15:18) – Discussing LGBT in Christian Doctrine
(0:31:43) – False Expectations and Burdens in Christianity
(0:38:30) – Understanding Inclusivity and Biblical Sexuality
(0:54:46) – Impact of Social Issues on Deconversion
Follow Braxton & Trinity Radio here:
Youtube: https://www.youtube.com/@UCzBRc0afgrS-PCrm6nka1_A
Instagram: https://www.instagram.com/trinity_radio/
Facebook: https://www.facebook.com/TrinityCrusadesRadioProgram
Learn more about Trinity College of the Bible & Theological Seminary here:
Rhett & Link Deconstruction Playlist:
Join us weekly as we strive help people embrace God's standard for sexuality!
Other ways to listen:
#LGBTQ #Deconstruction #TrinityRadio #BraxtonHunter #RhettandLink #GoodMythicalMorning #GMM